The promise of Atlantis, let down by a map
Yesterday my former university of Southampton proudly posted a news release about Professor Sears' ongoing research into the Suffolk town of Dunwich which has been lost to the sea. As a former Oceanography student I appreciate the science behind it and what he has achieved is a really impressive feat that is well explained in the blog post by Wired.
Unfortunately, many of today's news articles and blog posts across the online media concentrate on a map that in Sears' report is entitled 'Dunwich Town Reconstruction'. The BBC have concentrated on the underwater imagery but every other report seems to focus on the map reconstruction.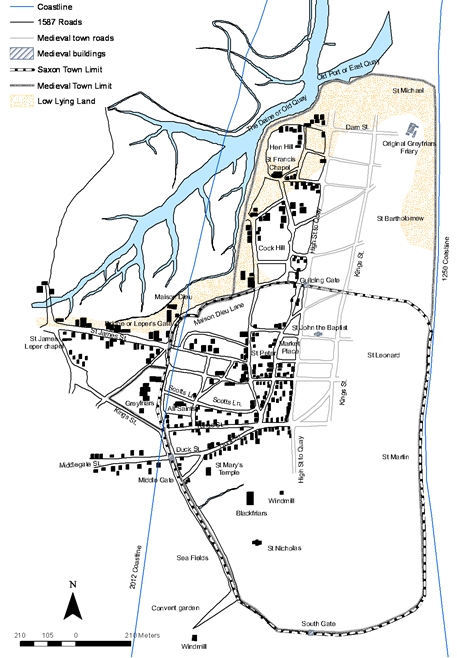 I hate map critiquing because too many cartographers seem to highlight the negatives with too few praising the positives. However one cannot avoid the fact that this map is hardly the university's best publication. It is such a shame because it takes value away from the wonderful research that they have done on Dunwich – the documented history, the science behind the underwater data capture, the 3D models, the photographs of the erosion of All Saints Church – the dedication and effort they have put into this project is obvious. What is arguably even more of a shame is that the potential and opportunity was there for a truly great map.
To get from the 3D models and limited number of historical maps to the map reconstruction looks like they would have had to have done some guesswork and it doesn't look all that easy so every credit to Sears and his team for producing a map at all. It is just such a shame that such a wonderful project could not have engaged with cartographers in order to help them produce a map that really justifies their work.
Sadly, none of the news articles and blog posts I found today use the figure below of erosion of the coastline which actually makes really good use of the map that they created.
I hope I haven't offended Prof. Sears or any of his students because I think their work deserves praise not criticism. It is just such a missed opportunity. Anyway I would encourage anyone to go to the website and check out the full report by Professor Sears which can be found at dunwich.org.uk.