Map Collection no.2
– Visualisations
Another selection of maps that I've stumbled upon or have been sent to me over the past few months.
Some aren't new – just new to me – so maybe to you too! Enjoy.
*Click on any of the map images for more information (links out to source website in a new tab)
Remember the 'here and there' horizonless map by BERG in 2009?

A similar idea was used 2 years later in 2011 by Bahrain-based Batelco, via their design partners FP7, to promote their directory. Incidently the same company produced one of my favourite advertisements.

I have seen plenty of maps of Facebook but this is my favourite.

I do seem to recall these from last year, but stumbled across them once more: Ed Fairburn's portraits hand-sketched onto maps using the map features as a natural grid.

Something that my colleagues and I did miss from last year and are all equally impressed by are these bridge sketches on a map. It just looks really good.

Now moving onto more recent finds, I was sent the website of this rather bizarre collection of retro-themed items for sale including guidebooks and this spectacular map of Miami.

This map design on the iPhone with 'blackscale' mapping as a backdrop for bright overlays also caught my eye. It is a version of MapBox Streets as also seen on City Guides by National Geographic.

On the subject of TileMill by MapBox. This has allowed users to create some wonderful visuals. The largest share probably being Natural Earth II.

TileMill has allowed neocartography to thrive especially the brand of map known as 'visualisation'. Here is one of the better examples by AJ Ashton showing world population densities as fires on a dark basemap.

Another TileMill example, the deforestation in the Amazon as a part of the InfoAmazonia project.

On a similar theme and rounding off the TileMill examples is this visualisation of tree canopy heights by Ian Villeda using 2010 NASA data.

Using a similar style of visualisation, you may have seen numerous flight path maps on the web, probably the best known being this map by LX97.com. Inspired by the recent work of Michael Markieta for Arup, my friend and colleague Charley Glynn has added the cartographer's touch giving a far more finished appearance.

Perhaps the most beautiful map, albeit more of a 3D model, that I think we have seen so far this year has been the simple, interactive design of Benjamin Franklin Parkway.

Earlier in the year I wrote a post on mapping meteor(oid/ite) hits – Mapping with Meteors. To my delight I found that visualizing.org ran a competition on the same subject. Of which the following two entries are my favourites.

Some might argue that this next one, the work of Estonian artist/designer Eiko Ojala, is not a map but I love these kind of simple landscapes and a map in this style would be quite interesting. Anyway, it shows location and context, so its a map!

One for the geologists next with National Geographic's map of the gigantic granite monolith El Capitan in Yosemite National Park. Not a subject that has ever interested me, but this simple slide-map somehow seemed to hold the interest of everyone in the office!

One of the map stories in the news in the UK this month has been to do with tube maps. In some of the stations of the London Underground, LEGO have installed network maps made of lego bricks.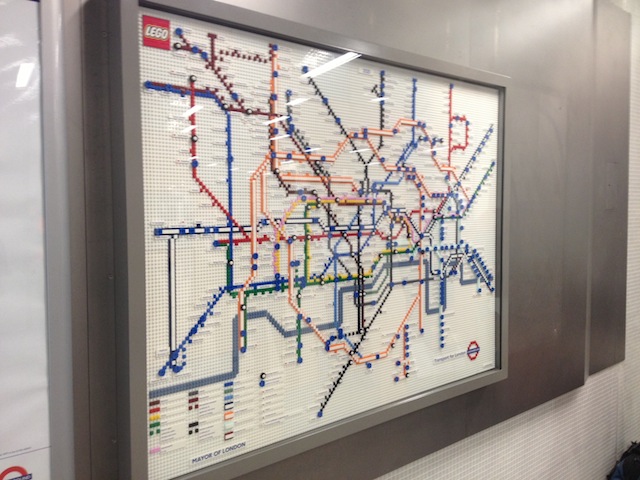 Whilst the next entry in the collection might not be the best aesthetically, it is arguably one of the most interesting. It is a series of maps created by David Yanofsky to show the results of statistical analysis on the direction of flights out of countries.

Last but my no means least is the most recent map in this gallery: NASA and NOAA's satellite map of world vegetation.