Tracking disaster: Typhoon Haiyan
Online mapping helping damage assessment and aid efforts in the Philippines
MapAction and OCHA


MapAction in conjunction with the UN Office for the Coordination of Humanitarian Affairs (OCHA) have been publishing maps and sharing them through websites such as Humanitarian Response and Relief Web. These maps deliver information to humanitarians, either as stand-alone maps or as figures in reports.
Read more on the BBC website

NASA


The National Aeronautics and Space Administration, the US space agency, has issued satellite maps showing the damage across the typhoon region. Scientists at NASA's Jet Propulsion Laboratory, Pasadena, California, in collaboration with the Italian Space Agency, generated the above image of the storm's hardest-hit regions near Tacloban City, depicting its destruction.
Read more on the NASA Jet Propulsion Laboratory website


OpenStreetMap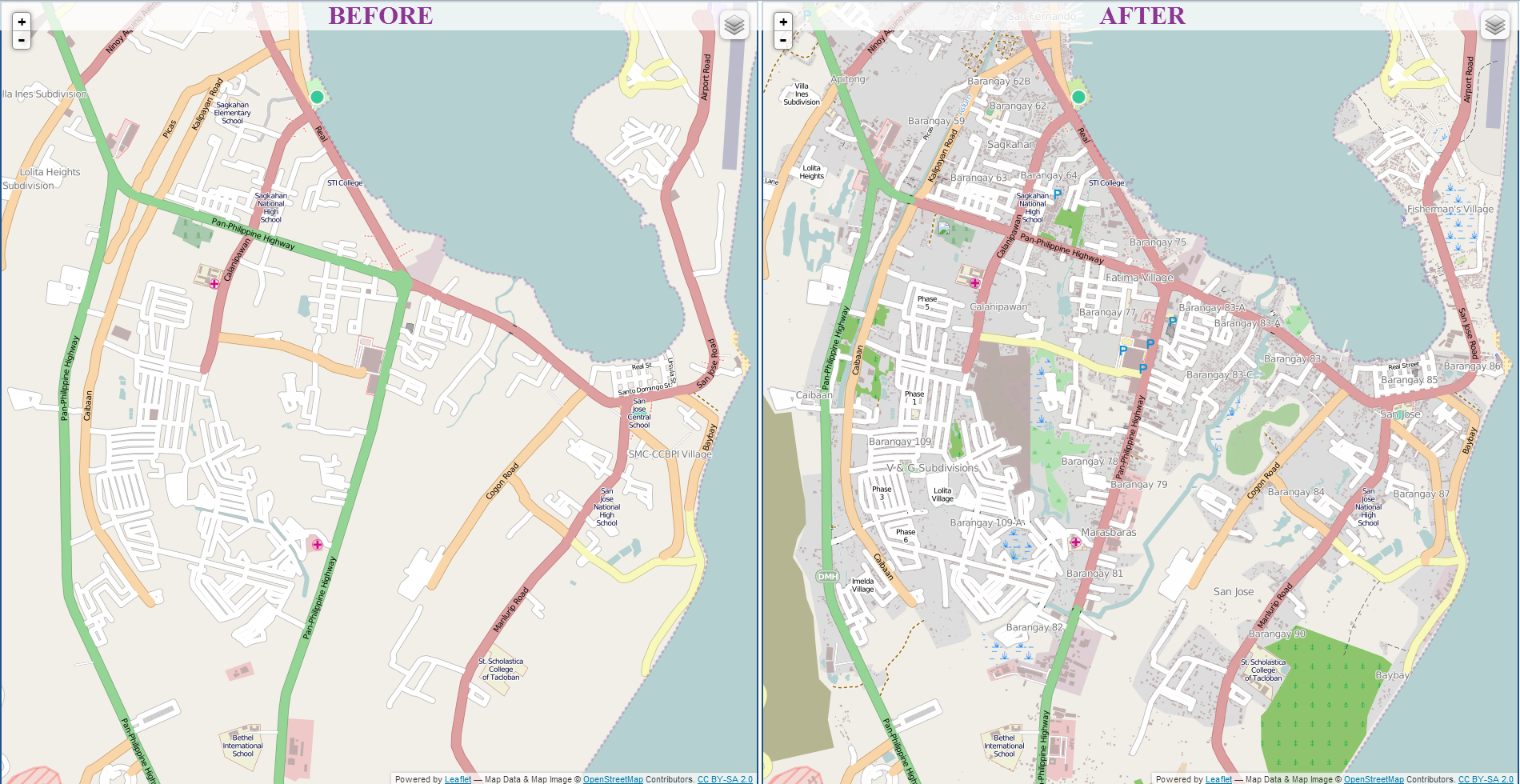 The Humanitarian OpenStreetMap Team (HOT) asked volunteers to update OpenStreetMap, the crowd-sourced web map, in the areas worst hit by Typhoon Haiyan. According to The Guardian, more than 700 volunteers logged in from their home or office and made over 1.5 million changes, providing invaluable information to relief coordination and to those on the ground.
Five days ago, MapBox blogged a live map they had produced to show the progress of the OSM update. It can still be viewed here.
Read more on The Guardian website

USGS


The US Geological Survey's Land Remote Sensing program released the above image of the flooding of Agno River Valley in the Philippines from the Landsat satellites. As described on their website, 'The Landsat satellites collect imagery worldwide on a daily basis, and can help measure and monitor the landscape changes caused by devastating storms.'

Furthermore
In the USA, CrisisCamp Philippines was set up on Eventbrite and advertised widely on Twitter by GI professionals and companies such as MapBox.
Also, according to Al Jazeera, 'Volunteers shared more than 7,000 images on the MicroMappers Image Clicker, which were collated by the online crowdsourcing organisation the Standby Volunteer Task Force, the global humanitarian relief group GISCorps and the mapping technology organisation ESRI into online maps.'
Al Jazeera also has some interviews with the American Red Cross and ESRI.