Happy New Year everyone! Wow, it has been a while since the last post. I've been trying hard to avoid any work related activities over Christmas and New Year in an attempt to recharge the batteries. Although much needed, the odd tweet here and work e-mail there has got the better of me!
Anyway, I have another holiday coming up shortly, a ski trip to Austria, and that got me thinking!
As a cartographer who has become a keen skier over the past eight years, the thing that always strikes me every time I go is the amount of maps. I struggle to think of many other pastimes where maps feature so frequently or heavily.

Ski Maps
There are more types of map than you might originally think.
There are resort location maps, especially useful in the Alps where there are so many resorts in each country and where you can often find multiple ski areas on the same lift pass. In France for example, they have a leaflet that contains several maps indicating the location of all ski resorts in France. I have actually never skied France – not overly enticed by the reported prices, lift queues and unreliable snow – but if you get the chance to pick up this maplet then do; it looks great, it is on quality paper and it is really easy to use and far more useful than you may have thought in planning where to holiday.
The first map shows the geographical areas of the different mountain regions: Massif Central, Alpes (Alps), Pyrénées, Jura, Vosges and Corse (Corsica) as well as the airports inside or near to each region.

The subsequent maps, one for each of the above regions, pinpoint the location of each major ski resort and the extents of the larger ski areas. It is strange to think but when browsing a ski brochure or online equivalent; you rarely get to see just where these resorts are in context to each other or in relation to non-airport towns and cities. You cannot really even do this very well on a platform like Google Maps because you have to zoom in to such a large scale to see the ski resorts (often even their names) that you lose all context. So whilst the maps may look like any other small scale paper map, the theme is actually both useful and surprisingly unique.


Whereas the above is mainly of use in the holiday planning stage, location maps are also invaluable when a large area or superior lift pass allows the skier access to multiple ski areas. In this instance they may be useful for both planning and whilst on holiday. A great example is something like Ski Amadé in Austria, where this lift pass is valid for six different ski regions totalling 25 different ski areas/resorts (possibly more if you uncouple the twinned resorts) but many are completely unlinked, i.e. no chairlifts, gondolas or ski buses between them, so one ideally needs a car. With 270 lifts and 760km of piste a single piste map is simply unviable, so a separate resort location map is a necessity (although I acknowledge that online they have combined the two into an interactive map). If maps of this type contain any extra contextual information then it tends to be no more than the road network, the mountain peaks and the lifts.

Piste maps are obviously the most iconic and most immediately-identified of the ski map family. Some can be computer generated and some are hand drawn. Quite famously in the world of cartography, many of the hand drawn maps are originally by the same artist, Pierre Novat, who passed away in 2007. In America, James Niehues paints and illustrates piste maps in a similar style.

Video about Pierre Novat (in French)

Video about James Niehues (in English)
The story goes that Pierre Novat, an artist-painter from Lyon, landed the job of recreating the Val d'Isere piste map to include the new resort of Tignes whilst skiing there in 1961.
His signature effect of being able to see around mountains is down to artistic licence and the understanding that good communication was preferable to the scale plan diagrams that had preceded him. Novat wanted the skier to visualise his or her surroundings with more attention to relationship between features than their actuality.
Over the next 35 years Novat mapped most of the ski areas of France and when he died in 2007 his children took over. The technique they now deploy is quite interesting. They fly the area in a helicopter to get a feel for the area. Sketches are produced using crayons on tracing paper. Then detail is added and the terrain is warped into the 'traditional' Novat panoramic style.
As Ski Adventures, a blogger from Les Arcs in France, wrote, 'The piste map still occupies an important place in the paraphernalia of a skiing holiday: an object that can excite the imagination, be spread before friends to share their mountain experiences and become a lasting souvenir of a wonderful skiing holiday.'


Computer graphics packages are obviously also used in many resorts these days and can be just as cartographically successfully, although purists may not think as aesthetically pleasing.


Some piste maps, like for example that of Whistler-Blackcomb in Canada, try to label each piste with its name. Whilst this works in more expansive resorts in Europe such as Grandvalira, Andorra; in North America where resorts are generally one big mountain I feel it makes the map a little difficult to read.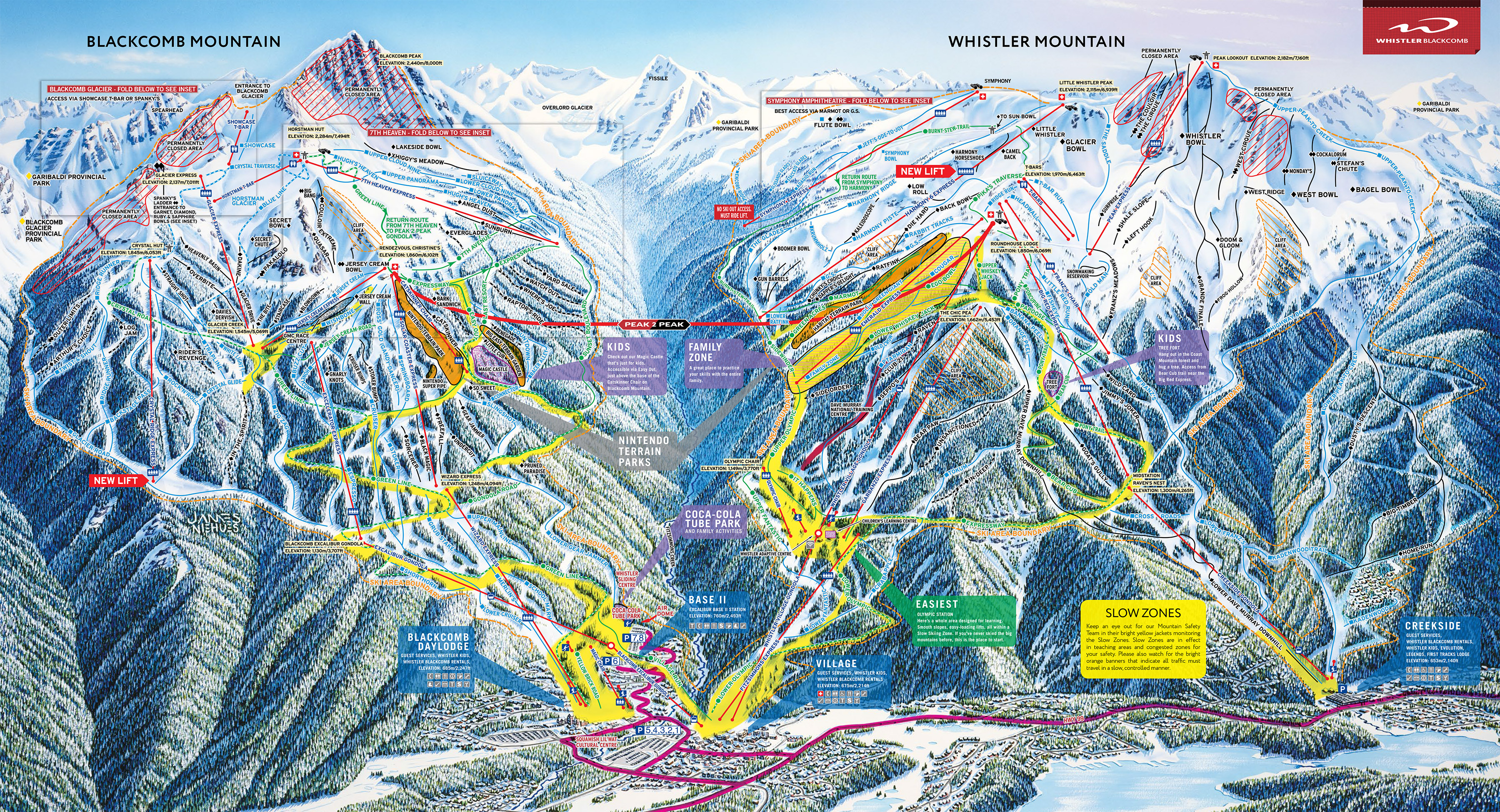 Some resorts have used web maps to try to create more immersive and more interactive piste maps, often trying to gain a third-dimension. Personally I'm not yet sold on these; I simply haven't yet found a use for them. This is perhaps a very good example of why a good user experience is not always the same as good cartography. They often look good and are nice to use but I would argue that a traditional piste map is clearer, easier and more efficient to use and so cartographically superior. On the piste I want a paper map, in the après bar I have the paper map or the same map on my smartphone, even in planning stage I tend to use a raster image on my laptop of the paper, traditional-style, piste map (largely because you don't tend to receive the paper piste map until you arrive in resort).
Some of the better examples I have come across however are:
Val Thorens, which is the traditional piste map with interactive overlay and ability to turn all elements on or off. A company called intermaps makes similar maps for many other European resorts but not so well in my humble opinion.


Ischgl has a similar map but with the ability to switch between the traditional map base and Google Earth. I love how clear this map is.


Several resorts also have 3D maps requiring software installation. Installing software must surely be an instant turn off for many. However I have installed, tried and tested a few and they are largely disappointing anyhow. The plus is that many of these are made by the same company, Reality Maps, so you only need download one viewer for all of their 3D RealityMaps which includes all of the Dolomiti Superski region of Italy. Sticking with the Ski Amadé example, they too have one of these and it lacks wow factor, is painful to navigate and brings little useful information with it.


There is however a new kid on the block in the 3D ski map space, it is called Piste.io and uses WebGL (which Firefox didn't like) and OpenStreetMap. The 'click to ride' feature is a very cool idea where you can ride each piste or lift as a fly-through, but sadly it doesn't work very well often being beneath the surface you're supposed to be skiing on. It is only a beta though and although it is currently not very useful, it is kinda cool to play with.


Personally, my own ski trip planning these days increasingly involves checking out the runs on YouTube, checking back and forth with a raster image of the piste map generally found through a Google Images search. With the growing numbers of GoPro cameras on the pistes (other brands do exist but not found in ski resorts in such vast numbers!) you'll be surprised just how many marked runs actually have a video. Maybe these could be put into an interactive map?
Then there are apps. These can be mobile versions of the websites but there are a number of ambitious apps out there too as well as ones containing useful information such as the snow and weather forecasts, and/or which lifts and pistes are open — something that I have never really understood, surely it would be both easier for the provider and more useful to the user to list the ones that are closed?
Bergfex Ski is one of my favourite apps in terms of supplying useful information. It is also well presented and quick and easy to use. It covers the major resorts of 12 countries across Europe. Once you have selected a resort you are immediately presented with a piste map, snow depth, lift information, latest webcams, weather and a summary of resort information all tidily presented on the one screen – I love this!
It is a living menu, click on any of these live sections to bring up more information. And yes, the piste map is the traditional one that matches up with the paper. Note that this is all on the 'Lite' free version of the app, a paid for one also exists and has excellent reviews. There are other similar apps, for example On The Snow.


UK ski tour operator Crystal, owned by Thomson, has an ambitious new app called Ski Explorer. The style throughout is synonymous with the new Crystal branding that was introduced in 2014 which is quite cool and in the app works really well. It contains both resort maps and piste maps. The resort maps are Crystal pushpins over a Google Maps base. This is really useful on arrival to know where to go on what is always a hectic first morning in resort.

The piste maps are the traditional-style and more or less match the paper maps but there are things I dislike about them. They are cropped to each resort and I may be wrong but they look like they have been resampled and post-processed to emphasise the overlay and it just makes the map look a bit fuzzy to me.
The app does have a host of very useful information such as resort guide. But it only shows current weather, the recommended routes will be welcomed by some I'm sure but most of us I think prefer to plan our own days. The real selling point of the app however is the 'My Friends' function. If everyone in the group registers, you can track where your friends are on the mountain and even in resort. A great idea but I see two big flaws: Firstly it has mixed reviews over the success of pin-pointing someone's location in the mountains, secondly I am assuming internet or mobile data connectivity is used which could prove costly or just unavailable – I say assume, the detailed on Google Play just say it uses GPS, but then does it store the symbology and base mapping in memory? And how does it communicate with your friends' devices? I will ask the Crystal folk next week as I'm travelling with them. Shame the app has no help section. Please comment below if you know the answer.

The most popular apps on the mountain tend to be those where skiers can record their routes and measure their speeds using smartphone GPS. There are simply too many to list here but a few of the more popular ones are Ski Tracks and Snow Edge, you can also use multi-purpose sports tracking apps for this such as RunKeeper.
Also, a growing number of European and Japanese resorts are also registering with Skiline. A company which uses smart lift passes to work out where you have been on the mountain and from this calculate average decent times. You can retrieve this on their website with your lift pass code along with various other graphs of information. Not as accurate as GPS but pretty cool seeing as there is no effort from the user while on the mountain.
Last year 2 teenagers from London launched an app on iPhone called Edge Ski. Their aim is to combine the features of both the resort information apps and the GPS apps mentioned above into a single, 'ultimate ski app'. It launched with a huge media fanfare but reviews seem to be less frequent and not as glowing of late. Personally I haven't used or even viewed it as I'm on Android.

There are also apps such as RealSki which uses smartphone camera 'point and display' style augmented reality to display landmark names, Action Shot to capture photo sequences and Ski Phone which allows you to use your mobile phone with gloves on by shaking it!

Also, the large area ski passes I spoke of earlier, for example Ski Amadé, tend to have their own apps. These tend to provide useful information such as a detailed list of open lifts and pistes, simple weather, events calendars, webcams and emergency information.
When I originally posted this I missed out possibly the best app which arguably does a better job than any of the 3D software maps and that is Google Earth! Most pisted runs are on the roads and labels layer of Google Maps and the same in Earth. The Earth app on a decent smartphone is a great tool to preview runs and routes. Only shame is the imagery tends to be summer rather than winter.

Some final thoughts
There are so many maps out there in so many different formats. So many cartographers talk about 'map porn'. A phrase that I find slightly distasteful to be honest. But if the stuff I see on Twitter is map porn, then a ski holiday is a private map orgy. Book yourself a ski holiday and prepare for your cartographic senses to be overloaded!
That said, it goes without saying that not all ski maps are great. For example in Ski Welt, we found a couple of pisted runs on the map that simply didn't appear to exist on the ground.
Also I mentioned Ski Amadé numerous times as an example but they unfortunately provide some bad examples too. In fact, the Ski Amadé website has an overview map that would have many a cartographer shaking with anger. The style is lovely but they have decided to have two maps on top of one another and make Austria appear like a massive country dominating the western coast of Europe!


The same site, as well as the app, has an interactive piste map that graphically looks great but to me the user experience is somewhat lacking in particular the cartography; maybe too much clutter or maybe just too far from the 'standard' appearance of a traditional piste map. Maybe I'm just getting old!

All images are assumed to be copyrighted by the relevant owners. Acknowldgements have been omitted to make the post clearer but most are on the images themselves, please contact me for sources.